Buying land for sale in Vernon is not only about getting a slice of land to build your dream home. It's also about living close to some of the greatest outdoors in the Okanagan. When you live in Vernon, you have easy access to a variety of lakes that are ideal for many water activities.
There are four main lakes in the Vernon area: Okanagan Lake, Kalamalka Lake, Swan Lake, and Wood Lake. Each lake has its own unique features so make sure you visit and explore them all!
Okanagan Lake
The largest lake in the region is Okanagan Lake, home of the legendary Ogopogo lake monster!
Beyond the lake monsters, this lake offers many kilometers of pristine beaches and campgrounds. It also connects all of the major cities in the valley. The lake begins in the south at Penticton, runs along Kelowna, and ends in the north at Vernon.
The lake is 135 km (84 mi) long and 5 km (3mi) wide and is said to be 232 m (930 ft.) deep in places. It's a favourite place for locals to go swimming, boating, wakeboarding, stand up paddle boarding, kayaking, fishing and more!
Kalamalka Lake
Kalamalka Lake is Vernon's slice of heaven. This lake has an incredible colour that varies from teal to cyan to indigo. Surrounding this lake there are beaches, picnic areas, campgrounds, and hiking trails to explore.
On hot summer days, make sure you head to Kal Beach early to find the best spot! This is one of the best beaches in the area. It's a great spot for families to build lasting memories. You can also visit the Alexander Beach Pub for a cocktail at sunset!
People in Vernon spend their days swimming, boating and enjoying water sports. There are two provincial parks that let visitors explore Kalamalka Lake through the trails, parks, and beaches. Kalamalka Lake Provincial Park has campsites and hiking galore. Kekuli Bay Provincial Park has lakeside camping and a boat launch.
There is also access to the Rail Trail, which lets people bike and stroll a historical railway path that stretches along Kalamalka Lake from Vernon to Kelowna.
Swan Lake
Swan Lake is a quieter lake that lets visitors connect with nature. The lake is smaller and shallower than the comparative lakes. There is a network of wetlands that surround the tranquil shoreline. You will find wonderful bird watching here. Nesting and migration patterns are easy to notice at Swan Lake since there is a large population of ducks, waterfowl, marshland birds and more. Visit throughout the year to view the natural cycles of the local birds. Each season brings new wildlife and beauty to discover!
Wood Lake
Wood Lake is immediately south of Kalamalka Lake. This is the Okanagan's warmest and most calm lake, which makes it a delight for fishing and paddle sports. There are two marinas to dock or launch your boat, Turtle Bay and Wood Lake RV. You can find camping and beaches to turn your visit into a weekend getaway!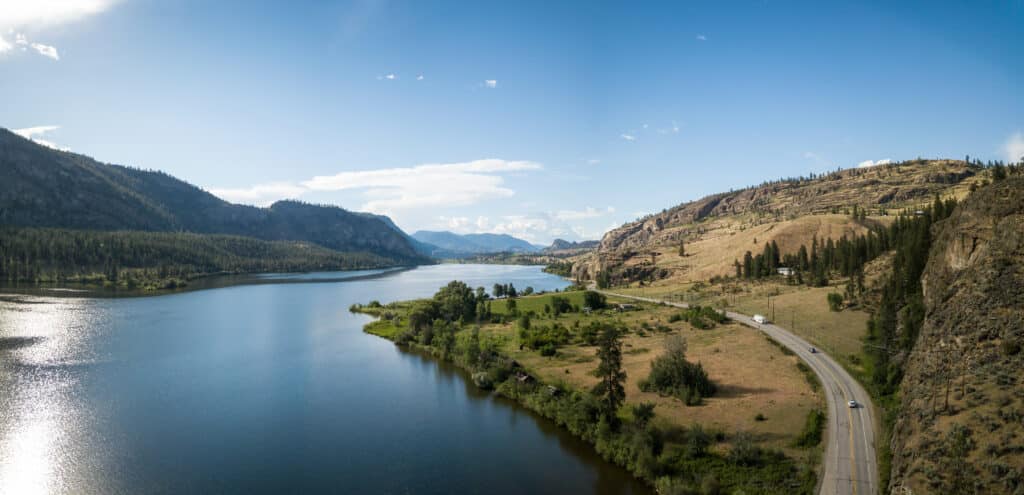 A lakeside lifestyle is around the corner for you with land for sale in Vernon. Day trips, evening hikes along the water, summer days at the beach, and weekends spent boating are all at your fingertips when you live in Vernon. Discover the rare opportunity to build your dream home and live your ultimate lifestyle!